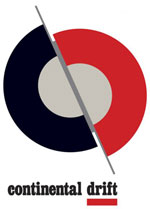 The third talk of Red Thread Talks and Conversations was realised by Brian Holmes and Brian Pentecost, at Platform Garanti Contemporary Art Center, on February 17th, 2009.
For the first time since the 1970s, an economic crisis has upset the geopolitical balance of power, suggesting possible changes in the model of worldwide development. How can artists participate in this potential transformation? How can they warn against the worst of the likely outcomes, while imagining different ways of life, new tomorrows?
Walk around Istanbul -or New York, or Delhi, or Shanghai- with wide-open eyes and camera clicking: you will learn a tremendous amount about the insertion of the city into transnational networks, but almost nothing about the national or regional economy, the cultural conditions driving political-party formation, the long-term shifts in mentalities and attitudes. The circulation patterns of contemporary society foster a structural blindness. Recent attempts to integrate the social sciences with artistic practices are essential to the perception of change at all the scales (global, continental, national, territorial, intimate). But every analysis comes laden with its own viewpoint, its own interests and prejudices. What interests us are experimental groups able to participate or even generate social events, while developing critical questions on the form, process, meaning and ends of their activity. Placing ideas to the test of experience and public debate, these groups may be able to open their own eyes and produce more widely sharable visions.
For the past four years, Brian Holmes and Claire Pentecost have collaborated with the 16 Beaver Group in New York on the autonomous seminar "Continental Drift", bringing together artists, social theorists and activists to look at the influence of geopolitical change on daily life. The most recent seminar was carried out in Zagreb, Croatia, in collaboration with the WHW curatorial collective.
* The seminar is open to public, and free of charge. The seminar will be held in English.
Brian Holmes is a cultural critic, living in Paris and Chicago, working with artistic and political practices, moving restlessly around the world. Holds a doctorate in Romance Languages from the University of California at Berkeley, is the author of Hieroglyphs of the Future: Art and Politics in a Networked Era (Zagreb: WHW, 2002) and Unleashing the Collective Phantoms: Essays in Reverse Imagineering (New York: Autonomedia, 2008).
Claire Pentecost is an artist and writer, engaging a variety of media to interrogate the imaginative and institutional structures that organize divisions of knowledge. Recent projects focus on industrial and bioengineered agriculture, the trade regimes that export them, and the alternatives. Pentecost is Associate Professor in the Photography Department at the School of the Art Institute of Chicago, where she teaches photography, critical theory and interdisciplinary seminars.